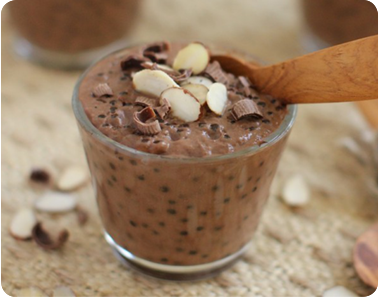 Chocolate Almond Crunch Pudding
1 Cup Naturally Almond Original Unsweetened
4 Medjool dates, pitted and coarsely chopped
1/2 tsp instant espresso powder
1 Medium- size, ripe avocado
1/2 Cup unsweetened cocoa powder
6 tbsp, plus 1 tsp pure maple syrup, divided
1/4 tsp kosher salt, plus more for sprinkling
1/4 Cup slivered almonds
1/2 Cup dairy-free yogurt
Fresh berries for garnish
Directions:
MAKE PUDDING:
Heat almond milk in microwave in a glass liquid measuring cup until hot but not boiling, about 30-40 seconds. Stir in chopped dates and espresso powder. Allow this mixture to soak at least 5 minutes and then add to blender and mix on high until very smooth.
Add avocado, cocoa powder, 4 tablespoons maple syrup, and 1/4 teaspoon salt. Blend until smooth, occasionally scraping down sides. Transfer to a container with lid and refrigerate at least one hour and up to 24.
MAKE ALMOND CRUNCH:
In a small, heavy saucepan heat 2 tablespoons maple syrup over medium heat. Add almonds and stir with a heat-proof spatula to coat. Continue to cook and stir frequently until almonds are golden brown and syrup is reduced and coating almonds, about 4-5 minutes.
Immediately transfer to non-stick surface such as a silicone baking mat or parchment paper and sprinkle with a generous pinch of kosher salt. Allow to cool completely and roughly chop.
ASSEMBLY:
Mix yogurt with remaining teaspoon maple syrup in a small bowl. To serve, divide pudding into small dishes and top with yogurt mixture and almond crunch. Serve with fresh berries if desired.