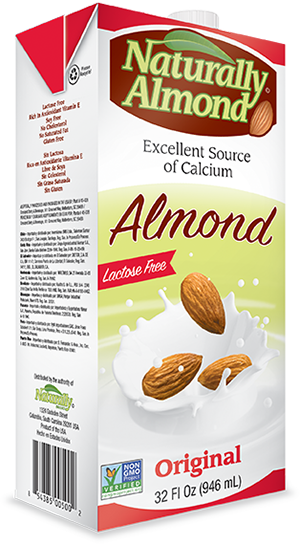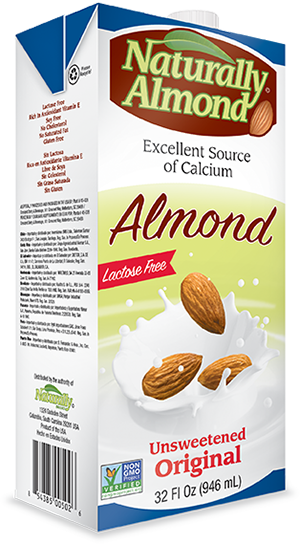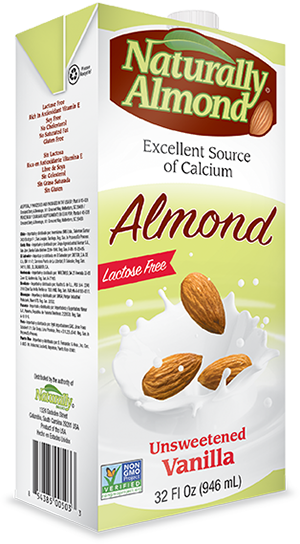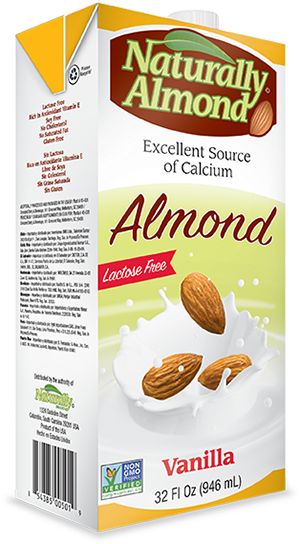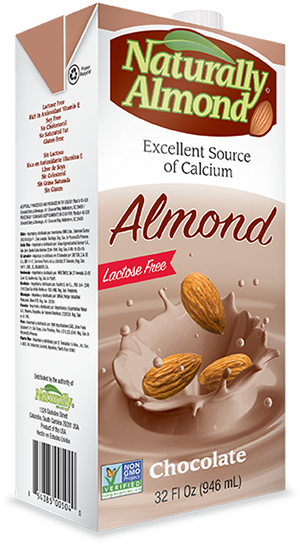 Try Them All!
Naturally Almond Milk is a delicious soy-free option. We brought you Original and Vanilla Naturally Almond, but after listening to your requests for more variety, we also offer Unsweetened Original and Unsweetened Vanilla, for an even lower-calorie option with no added sugars. Our fifth flavor of Naturally Almond, Chocolate, is a delicious, sweet treat for adults and kids alike.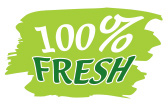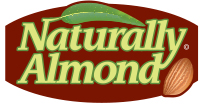 What is Almond Milk?
Almond milk is milk that's derived from almonds (no surprise there!).  Our milk is a naturally dairy-free, soy-free alternative to cow's milk, making it a suitable option for vegans and those who suffer from dairy allergies or lactose intolerance. 
You may think that this type of milk is a new trend, however, drinking almond milk dates way back to the middle ages. Everyone from the upper class to the pious enjoyed almond milk, especially during Lent when dairy milk was not permissible.
How is it Made?
Many people look at an almond and think "how can that turn into milk?" Well, it's simple, really. Almonds, when mixed with water, can be blended and strained and the result is a smooth, tasty liquid.
Simple ingredients, simple process, outstanding taste.
Almond Milk Nutrition
We've all heard that almonds are good for us, but how? Have you ever wondered what exactly makes an almond healthy? Here's your answer:
Fiber

: Fiber is a nutrient that promotes and maintains your gut health as well as many other health conditions like heart disease and Type 2 diabetes. The recommended amount of fiber in your daily diet is 28g, which can be achieved by consuming a variety of fruits, vegetables, legumes, and whole grains.
Protein:

Protein is an essential nutrient needed for our muscles, skin, hair, hormones, and antibodies. Each individual has varying protein needs, but the general recommendation is 0.8g per kg of body weight. For example, a person weighing 120 lbs would require about 44g of protein in their diet per day. The best sources of protein are fish, chicken, eggs, and nuts. Those who follow a vegan lifestyle may struggle to get in enough daily protein, this is where almonds can help.

Fat:

We all know that there is good fat and bad fat. The dietary fat that comes from almonds is classified as a good, or unsaturated, fat. It's recommended that about 20-35% of your daily calories come from healthy dietary fat sources like fish, oils, seeds, nuts, avocados, etc. 
Who Can Drink Almond Milk?
Unchanged: Anyone and everyone can enjoy the smooth, creamy taste and rich health benefits of almonds and their milk with the exception of those who have a tree nut allergy and babies under the age of one year old.
Delicious Ways To Add Almond Milk To Your Diet
Here at Naturally Brand, we love coming up with new ways to use our nutritious almond milk products. There are so many ways to enjoy our various varieties! And with 50% more calcium than dairy milk and 65% fewer calories, you can feel great about your choice to make the switch.
The most popular uses of this type of milk are as a replacement for your traditional dairy milk. You can splash it over your breakfast cereal, add it to overnight oats and oatmeals, use it as a coffee creamer, add it to your smoothies, make soups and sauces, and even use it as a base for ice cream. The possibilities are endless!
Why Choose Naturally Brand Almond Milk?
The Naturally Brand family is committed to bringing the tastiest, most nutrient-dense almond milk to the world. Our story began as a small, family-run business that knew the benefits of plant-based milk and decided to make our own and share it with the world.
We have several flavors to choose from, including our delicious new almond milk chocolate variety!
We're committed to discovering ways to fuel your body naturally with the type of goodness that's found only in nature. We harness the power of some of nature's richest superfoods and deliver them to you and your family to enjoy.
Try All Our Great Flavors!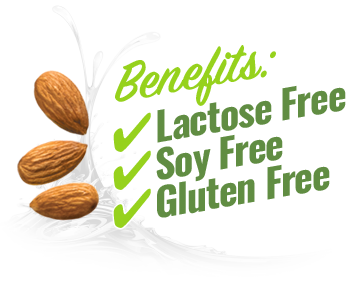 The Healthy Way to
Fuel Your Body