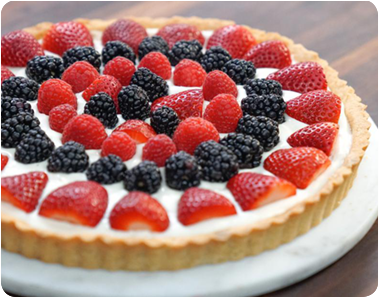 Ingredients:
1 Egg
1 Teaspoon of Corn Starch
1 Teaspoon of maple syrup
1 Cup of Naturally Cashew  Original
Tart crust
Strawberries
Raspberries
Blueberries
Blackberries
Directions:
To make custard whisk egg, corn starch and maple syrup together in a pan.
Slowly whisk in Naturally Cashew over medium heat.
Bring to a boil, whisking continuously, remove from heat and cool 5 minutes.
Pour custard into tart crust and top with fruit.
Refrigerate 30 minutes before serving.