Is Coconut Milk Healthy?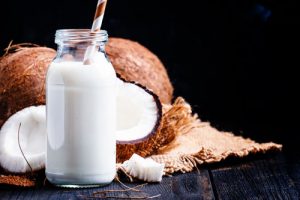 Have you tried coconut milk in your favorite coffee drink yet? How about in a smoothie? When you drink coconut milk, you're getting the benefits of a top-notch, natural fuel that leaves your body feeling amazing.
So, is coconut milk healthy? It sure is! And we're going to tell you why.
The Amazing Health Benefits of Coconut Milk
Coconut milk, when enjoyed in moderation, can be a very beneficial additive to your healthy diet and lifestyle. Here are just a handful of the benefits you'll reap from milk made from coconuts.
Improved Heart Health
Although coconut milk is high in fat, it actually helps to improve your heart health because it's also high in other nutrients that are known to combat heart disease. Magnesium, for example, is found in high quantities in coconuts. Magnesium can help you to keep your stress levels low and aid in circulation.
Coconuts also contain high amounts of lauric acid, which has been shown to help improve cholesterol levels and promote a healthier heart. Additionally, milk made from coconuts can also help lower your blood pressure, which also results in a healthier heart.
Increased Energy
Who doesn't need more energy throughout their day? The calories you'll consume from coconut milk are a fantastic source of energy for both your body and your brain. The high levels of healthy fats can be linked to improved energy, increased mental function, and an overall feeling of clarity. Furthermore, it can also help promote hydration which also keeps energy levels high.
Better Digestion and Gut Health
Coconuts are very hydrating and can help to keep your digestive tract running smoothly and properly. This means, you can expect to be more "regular" and it can even help relieve occasional constipation.
We're committed to discovering ways to fuel your body naturally with the type of goodness that's found only in nature. We harness the power of some of nature's richest superfoods and deliver them to you and your family to enjoy.
Decreased Inflammation
Whether you suffer from arthritis, joint pain, stiffness, swelling, or bloating, milk made from coconuts can actually help you to combat inflammation in your body and relieve pain.
Promote Healthier Eating Habits
The more healthy fats we consume, the longer we stay satiated, and the less often we sneak into the kitchen snack cupboard. When you stay fuller for longer, it helps to encourage healthy eating habits and to avoid binging on unhealthy foods.
Bone Health
Coconut milk is a significant source of calcium and vitamin D, the bone-strengthening super duo that's essential for the strength and longevity of your bones. This type of milk also contains phosphorus and manganese, both of which have been shown to aid in bone metabolism.
Boosted Immunity
As we already discovered, coconut milk contains lauric acid, which is a type of healthy fay that's found in many vegetable-based fats. This fat is often used as an antimicrobial agent for the treatment of viral infections including the yearly flu. Ultimately, it can boost your immune system and help it to fight attacks caused by bacterias and yeasts.
Harnessing the Power Of Coconuts in Your Daily Diet
So, is coconut milk healthy for you? Yes, in more ways than one. And there are so many ways to reap the benefits of coconut milk in your daily diet.
From pouring it over your morning cereal and using it as a coffee creamer to including it in recipes and making smoothies, this plant-based milk is the perfect alternative to dairy and as a bonus, you'll enjoy so many benefits for your body and mind.
Try Naturally Brand's Coconut Milk Today!
Try All Our Great Flavors!