Is Coconut Milk Healthy?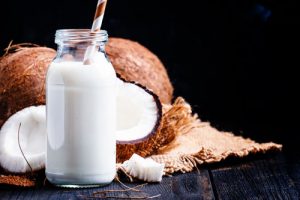 Have you tried coconut milk in your favorite coffee drink yet? How about in a smoothie? When you drink coconut milk, you're getting the benefits of a top-notch, natural fuel that leaves your body feeling amazing.
So, is coconut milk healthy? It sure is! And we're going to tell you why.
The Amazing Health Benefits of Coconut Milk
Coconut milk, when enjoyed in moderation, can be a very beneficial additive to your healthy diet and lifestyle. Here are just a handful of the benefits you'll reap from milk made from coconuts.
Improved Heart Health
Although coconut milk is high in fat, it actually helps to improve your heart health because it's also high in other nutrients that are known to combat heart disease. Magnesium, for example, is found in high quantities in coconuts. Magnesium can help you to keep your stress levels low and aid in circulation.
Coconuts also contain high amounts of lauric acid, which has been shown to help improve cholesterol levels and promote a healthier heart. Additionally, milk made from coconuts can also help lower your blood pressure, which also results in a healthier heart.
Increased Energy
Who doesn't need more energy throughout their day? The calories you'll consume from coconut milk are a fantastic source of energy for both your body and your brain. The high levels of healthy fats can be linked to improved energy, increased mental function, and an overall feeling of clarity. Furthermore, it can also help promote hydration which also keeps energy levels high.
Better Digestion and Gut Health
Coconuts are very hydrating and can help to keep your digestive tract running smoothly and properly. This means, you can expect to be more "regular" and it can even help relieve occasional constipation.